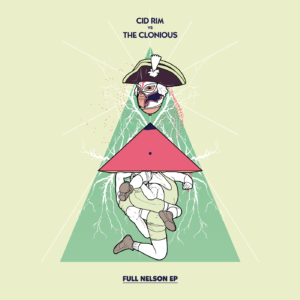 Release Date: 01-12-2010 | Catalog: AFF 005
Format: 12″ + Digital EP
Download / Stream: Bandcamp • Apple Music • Spotify

Cid Rim vs. The Clonious, both willing to step up their game.
This merciless battle starts with Cid´s side and the Opener "Jerome". Cid Rim fields a failed racing driver who constantly battles his own mind but still is keeping it funky enough to be a quite adorable dude. When monumental chords are paired with a haunting hook, you´re right in the middle of the "Chop Suey Cide Step". Its sharp edges and tubular harmonies make way for a pyschedelic jab that goes by the name of "Bear Hug Love" – the final knockout!
In the other corner: The Clonious tag-teams up with tremendous Detroit Vocalist Paul Randolph on "Truth" which souds like it could be played in a Detroit based gospel church in the next couple of centuries. Followed by a fearless jump: "Earringer" – the name is the game! 140 BPM are whipping a couple of Clonious' wrestling buddies on a horse-race track until they give up their ghosts. Don´t think you have reached the comfort zone when you listen to "Paul´s Suite" giving you an inside into his world of obsessive perfectionism.