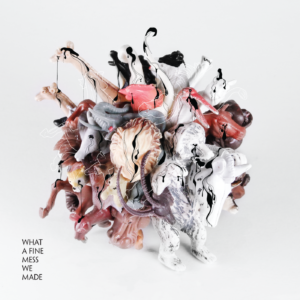 Release Date: 11-04-2011 | Catalog: AFF 006
Format: CD + Digital Album
Download / Stream: Bandcamp • Apple Music • Spotify
We proudly present our first and exceptionally special labelcompilation. "What A Fine Mess We Made" is an intensely luminous drive-in lining up 14 exclusive tunes by the Affine famiglia, friends and international guests.
You get: Fu-Fu collective and all-starnot-to-be-fucked-with band JSBL …Dorian Concept and his very own irresistible, distinctive touch … Ogris Debris, proven experts for epic oscillations between techno and house music …The Clonious and his bulletproof skills to buff up and transcend jazzed orbits … Cid Rim and his eruptions through mythical formulas of staggered chord works … Affine's latest family member Zanshin and his astounding, enigmatic world … Unpredictable and boundless vibes from Bucharest's restless producer Cosmin TRG… our bridge to Brooklyn in form of KRTS and his fearless hugs of sonic beauty within the art of noise … Sixtus Preiss, aspiring producer from Vienna and his bone-dry drums, gangster chord chops and future funk soli.
This is an amazing collection of genre-blasting gems which are destined to hit streets, clubs, radio stations, trains and intimate kitchens likewise.