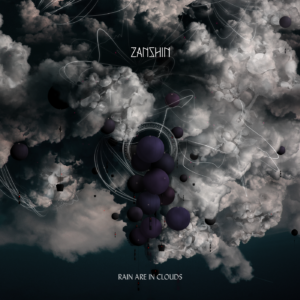 Release Date: 28-10-2011 | Catalog: AFF 008
Format: CD + Digital Album
Download / Stream: Bandcamp • Apple Music • Spotify

Zanshin covers a broad, diverse and at the same time homogenous range of crafty electronics and playful synthesis based structures and beats, sound research with balls. This album is an ode to the freedom of not getting caught between two stools. He regards himself as a border crosser, working ingeniously with reminiscences of Dubstep and Electronica, interweaving heavy hip hop beats with filligree field recordings, complex harmonies and emotional depth – as if all components were elegantly fragmented on a microscopic level and reassembled by nanobots.
All the while remaining true to his own characteristic style and trademark sound aesthetics and drawing influences from UK Electro luminaries, wild Jazz-Funk of the early 70ies up to the eclectic approach of 90ies Post-Rock bands, and presto, Brainfuckdisco at its best. Et voilá: Zanshin – "Rain Are In Clouds".