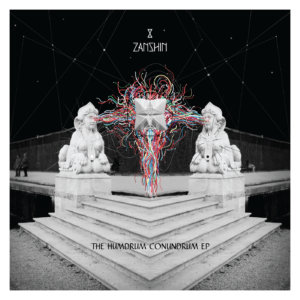 Release Date: 01-06-2011 | Catalog: AFF 007
Format: 12″ (EP) + Download
Available at Affine Shop • Bandcamp • iTunes • Spotify

Based in Vienna, producer and musician Zanshin provides on his EP debut "The Humdrum Conundrum" a musical landscape of his own, using all available colours and brushes.
The opening track "Syzygy In Canis Major" delivers a first profound imprint. "You I I You" features a full load of edgy instrumentation, deeply transplanted synths and is smartly moving up and down the emotion-index. Concise but monumental – "Solrenichi" closes Chapter One..
The flipside continues with "Jinxed Sphinx" and shows Zanshin flirting with abstract jazz ingredients on a shifted rollercoaster ride. The accurate soundtrack for lonely excursions on the night train are brought on "A Flock Of Locks". "Lunathotsuki" leaves you with the delicate touch of a chime before moonrise.