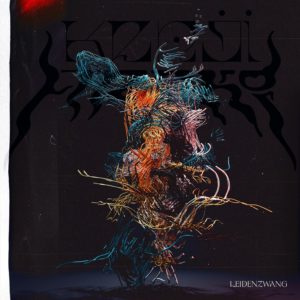 Release Date: 03-06-2022 | Catalog: AFF 019
Format: 2 Vinyl LP / Digital Album
Purchase: Bandcamp • Spotify • Apple Music
"My debut album "Leidenzwang" is the consequence of boundless obsession" apostrophizes Kenji Araki with stoic calm. An obsession in the most positive as well as in the most negative of all senses, involving a wide variety of media. Kenji, in his early 20s, is known to be a digital and interdisciplinary artist from Austria with roots in Japan whose work is primarily influenced by the deconstruction of music and contemporary art.
"Leidenzwang" (in English: Suffering compulsion) is confrontation. Confrontation with the world. Confrontation with oneself. A confrontation that can be productive and cathartic. However, until Kenji Araki was able to get into this pattern of thinking, it was necessary in the process of creation to leave his very own sanctuary which he cultivated over the years. Escapism in the rear-view mirror of the past. "Leidenzwang" as a natural hybrid of passion (probably the most beautiful feeling a creatively active person can experience) and dangerous self-flagellation plus constant unrest. The result and musical core of Kenji Araki's debut album is an experimental, emotional post-club exploration with pop sensibility that deliberately ignores genre boundaries.
12 tracks spread over 50 minutes in fast forward: It starts with the adequate intro "Avant" – a primal scream. Next with "Matter" where Kenji collaborates with Thomas Mertlseder and constructs the sound world of a dark fashion film. Emotional highlights for the vividly vibrating club floor as well as for the digital terminals of Planet Earth delivers "Nabelschnurtanz" with its amalgamation of human sound waves. Followed by "Gel & Gewalt" – a combination of 90s Grunge, IDM and exponential rhythms – the fierce "SINEW" with its distorted double bass recordings and "Monomythz" which is Kenji's interpretation of a club banger with a combination of 2000s Eurodance aesthetic and hypermodern off kilter beats.
A moment to take a breath is offered by the spherical track "Milieu" which was written during an emotional low and thus naturally has a dark note. At position 8 is "lluviácida" – inspired by the "rave scene" observed from afar. Closely followed by the album's title number "Leidenzwang" with its granularized piano melodies while nature sounds can be heard in the background.
The album finale is formed by the polyrhythmic fireworks "Deathless Mess", the piece "Isan 世襲" (in Japanese heritage) which symbolizes the own inner turmoil and at the same time acoustically illustrates the relationship to his origin. And the conclusion is marked by the heartbreaking "Au-Dèla" as the epitome of a closer. Kenji Araki: The time is now.
Supported by SKE-Fonds