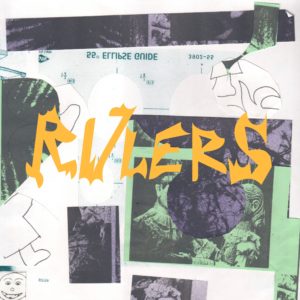 Release Date: 10-09-2021 | Catalog: DIGAFF 016
Format: Digital Album
Download / Stream: Bandcamp • Spotify • Apple Music
With "Rulers" the Austrian producer duo Mieux delivers a versatile electronic dance music album in the best sense. Their debut album is a statement of self-confidence and confident standpoints. For the supreme discipline of the album, Christoph Prager and Felix Wolfersberger, who have been producing music together for around a decade, have constructed a broad arc of suspense from within their parallel universe. In the process, Mieux focuses on the ruler as a central object and useful tool for measuring socio-cultural ambivalences and their own life realities as music producers in the here and now.
The two are children of the Beat School of the late 2000s and have been primarily inspired by Afrofuturism such as Sun Ra, Japanese video games and the search for rare sounds in the blog world of the 2010s. However, in process of generating "Rulers", they have consciously reduced their own musical frames of reference and internal discrepancies to a minimum. Mieux has thus managed to shed subjugation to prevailing structures and to detach itself as far as possible from the self-exploitative dynamics of the attention economy. In doing so, the Vienna-based producer duo has unleashed a healthy dose of rejectionism in order to sustain creative autonomy, experimentation, intuition and the necessary naivety in space and time.
"Rulers" is the literal initiative of this and, above all, demonstrative intention, since this album is at the same time the resounding call to develop collective possibilities and perspectives of all disciplines of our life and to place them into new relations. The mechanism of application is the same. Or as Christoph and Felix say, "Rulers for everyone!" This hyper-dense work of Mieux captivates with flamboyant productions and is a colorful bouquet that quite naturally combines Bass, Techno and House Music, Indie, Pop, Disco, Synthwave, Grime and Electronica elements. The results are heartbreaking yet raving tracks that make up the typical Mieux sound. Their aspiration and self-perception are musical accessibility with room for interpretation. The audience decides. Here, too, the principle of "Rulers for everyone!" applies.
The best proof of this taken path are the collaborations on the album, where Mieux collaborates with singer and songwriter Laura Groves, who is known through her numerous own releases but also through features with Darkstar, Wilma Archer or Sampha, in the dim light of 80s Disco. Flanked by purple synths, on "Unreal" the South-London-based musician addresses the very real interpersonal tensions of daily existence. Or as Laura aptly describes: "The song is about exchanges of energy – the pitfalls of putting too much of it into a situation where you're not receiving it back, however tempting it might be."
The career of the young grime artist Cadell began only a few kilometers away, in East London. He is featured in the impulsive high-speed-cracker "In My Prime", on which Cadell raps impressively about the challenges of his career so far. Fun fact as well as true story: that instrumental was produced on a mono synth one hot summer afternoon on a Croatian beach. In the making, Christoph and Felix actually used the most sampled loop in music history. File under: Breakbeat Love. It is one of those lighthearted Mieux productions that is representative for their approach on "Rulers". Electronic Dance Music for now and the time after.
Supported by SKE-Fonds