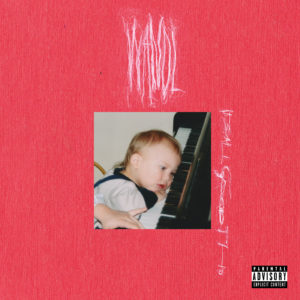 Release Date: 02-06-2017 | Catalog: AFF 017
Format: 12" (LP) + Digital Album
Download / Stream: Bandcamp • Spotify • Apple Music
22-year-old Vienna-resident Wandl developed into one of the most progressive and interesting european producers in recent years. His longplay-debut "It's All Good Tho" brings his take on melodic vocals and experimental, bass driven instrumentals to the fore. His EPs "Milk", "Soon" and his Affine-debut "Far Way Home" stretch out his personal vision of brainfeeder-nerdism and state of the art bedroom-soul. On "It's All Good Tho" he plays almost all the instruments, channels his vocals through machines, alienates and exposes them – and he's not shy of monumental hooks.
After recording "Geld Leben" with Crack Ignaz – an album that Juice Magazine, All Good and Intro called one of the best Deutschrap-records of the decade – Wandl isolated himself and retreated to his den. Being alone in his Wandl-crib or at the studio of his labelmate, mentor, and guest on the album, Dorian Concept, he wrote songs on guitar, rhodes, violin and synth and sang cranky-beautiful sketches into his phone, that turn into post-R'n'B-gems. During the production the St.-Pölten-born multi instrumentalist temporarily moved to Hamburg to write the orchestration for the play "Der gestohlene Gott". By day he worked on the theater staging, at night he recorded vocals at the grand piano in the massive and inspiring lobby. Throughout the three performances during which he partly improvised some of the sound design, Wandl further developed his intuition.
You can hear some of that dramatic composition on "It's All Good Tho". "Fever" is an intimate Laptop-slow-jam, revealing a lot of Wandl's inner life and expresses rage, self-doubt and transcience. On the enchanting bipolar-blues "Window Color" he also touches upon death, but favors life in the end. Then on "Gay" it gets really brutal, as he sings: "I cut myself up, 'til I need some help, I bleed myself out, then I clean the floor" – before heading off to the bright sun. "Hell" with Cid Rim is as close a near-death experience can be experienced sonically. A vivid descent into hell.
Despite these (subbass-)depths and its Lo-Fi-appeal, "It's All Good Tho" is a single peak. Hopeful and pacifying. Connecting the dots between Affine-aesthetic and Hanuschplatzflow- humor, songwriter-skills and Stones-Throw-socialisation. With the trippy "0800-333-Talk" and the space battle "Drones" Wandl keeps up with futuristic beat-gods like FlyLo and HudMo. "Cola", the first single, is a straight summer-tune that fit seamlessly into mainstream-radio and shows that the timid musician must surely be Austria's next top export. And when the hypnotic loop of "Häuser" fades out, all the worries are blown away. Wandl makes sure: "It's All Good Tho"