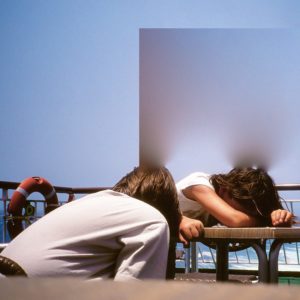 Release Date: 12-11-2021 | Catalog: DIGAFF 019
Format: Digital / 2-Track-Single
Download / Stream: Bandcamp • Spotify • Apple Music
Austrian producer Zanshin returns to Affine Records with a brand new two-track-single in November, teasing his upcoming new album (tbr in the first half of 2022). Showcasing his broad range of styles and influences, we get a breakbeat-driven, synth-laden track with soaring vocals on the A-side, called "Because Why". The title refers to the movie "Alphaville" by Jean-Luc Godard, a dystopian science fiction film noir, in which an omnicient computer system called Alpha 60 rules society and dictates that people can only use the word "because" but never "why". On a closer listening we can even hear some original samples spoken by one of the protagonists, the programmer Natacha von Braun, taken from a key scene of the movie, a dialogue about the meaning of love. As usual, Zanshin's faible for ambiguity is at play here and he offers us something that could be understood as a love song but might also be a lament about the paradoxical situation of not knowing whether to pose a question or to have an answer at a specific moment.
Possibly a situation everyone encounters once in a while. Further into the track the energy rises when suddenly the beat is shifting into higher gear, adding even more drive to the bass-propelled fundament. All the while numerous synth lines interplay throughout the track, providing an ever changing melodic landscape.
The B-side "Identity Slices" continues to touch on the subject of questioning the nature of identity and the self, but without the use of words or voices. What we encounter here could easily be the soundtrack of synapses firing through an identity crisis. Or is it rather a force of seemingly cosmic scope, like an interplanetary mechanism of sorts, spinning and spurring all the while, with massive grinding gears and a percussive drive that behaves more like a constantly recharching wind-up bird of sorts. Glistening, glimmering synth particles shimmer through and restructure their order alongside slowly evolving massive chords and atmospheres, somehow putting the fusion back into confusion.
The "versatile beast" Zanshin has never been shy to go his own way, being influenced by all sorts of different strains of (not only electronic) music. You can feel his urge to stretch far and wide, always concentrating on the trajectories a track itself wants to follow. Zanshin sees himself as more of a sculptor in this regard and does not really like to stick too close to specific sub-genres of electronic music, but will always rather do what he enjoys most: playing with sounds.
Supported by SKE-Fonds