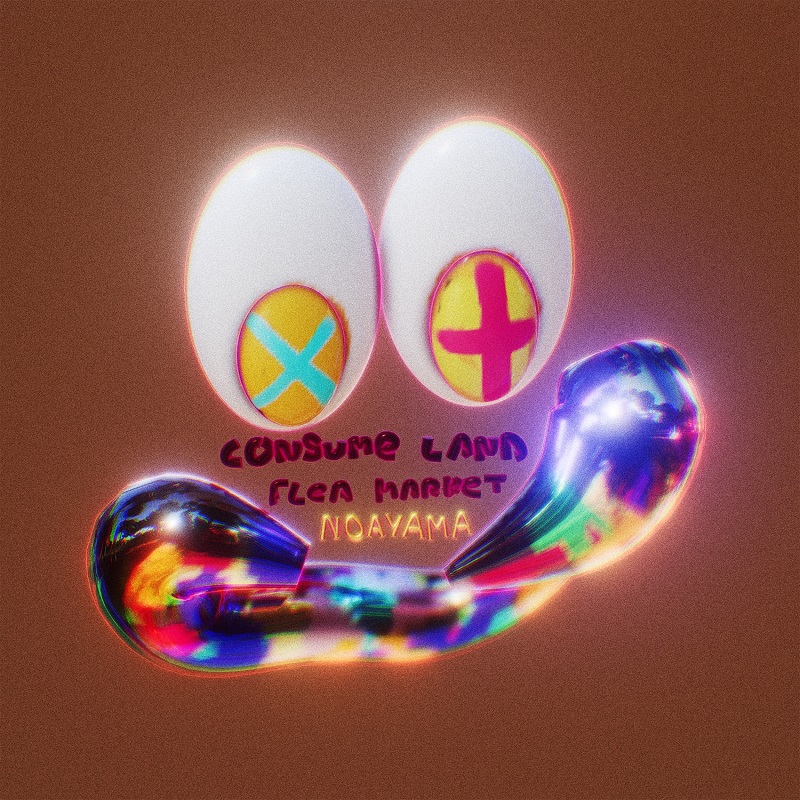 Release Date: 31-03-2023 | Catalog: AFF 021
Format: 2 LP / Album
Download / Stream: Bandcamp • Spotify • Apple Music
Welcome to the "Consume Land Flea Market". This is the atmospheric setting and at the same time the luminous title of the debut album of young producer Noayama. "It centers on the contradiction between turbo-capitalist consumerism and the desire for vintage stuff in all kinds of shapes and colors to escape reality for a bit. I think it's quite a nice and suitable metaphor for the position my generation is in right now" says the 21-year-old producer, musician and interdisciplinary artist.
On about 40 minutes, Noah Berger, who grew up near Munich, spans a wide musical arc with his alter ego Noayama. He combines Hip Hop aesthetics with playful Electronica and acts skillfully in the interstices of Pop. Hints of 70s Funk hedonism, Old-School House vibes and modern J-pop sensibilities can also be found on "Consume Land Flea Market." The binding agent of the album is Noayama's "Punk Attitude" which comes through clearly on his tracks and beats and is an elementary part of his producer DNA. "I just like to drift, it's very central to the way I work" adds Noah.
Just as important for him are intergenerational collaborations, which adorn his debut work in numerous ways. An illustrious round of artists is therefore represented on CLFM. It starts with young female rap artist Maassai from the New York underground scene who can be heard on the pulsating opener "Get You Back". Also from N.Y.C is Hprizm, a member of the legendary avant-garde rap group Anti-Pop Consortium, who is featured on the dark and gritty "I Went Left" and the bouncer "War." Funkstörung is also involved here. Not too much of a coincidence as Noah has been encouraged since his teenage days by his father Michael Fakesch, one half of the Glitch-hop pioneers who became famous in the late 90s. With "The Legendary Godmother of Japanese Electronica" Coppe' on "Majesty" and the German singer-songwriter her tree on the song "Flâner", introverted pieces have also found their place on CLFM. In addition multilingual verses with SILO INF3RNX from the townships in Gugulethu on "Ingozi" and on top "the homies from the neighborhood" Anothr and Taprikk Sweezee who give the album further facets through their contribution.
Noayama combines elements and working methods of the last five decades in a relaxed manner and bundles them into a genuine piece of work. Emblematic of this approach is the choice of features. So is the gear he uses. He incorporates old synths (Roland Jupiter 8, Nordlead) and drum machines (Roland 808, Roland 909) with playful ease with common software tools. It's also pretty convenient that he's currently studying Digital Arts at the Kunstuni Linz. In fact, his semester project is the visualization of his own album which means that every single track and every interlude gets its own video. Well, Noayama is just a gambler.